Best rubber farming wellies? Choose Bekina NEOTANE boots
17 August 2021 - 3 min. reading time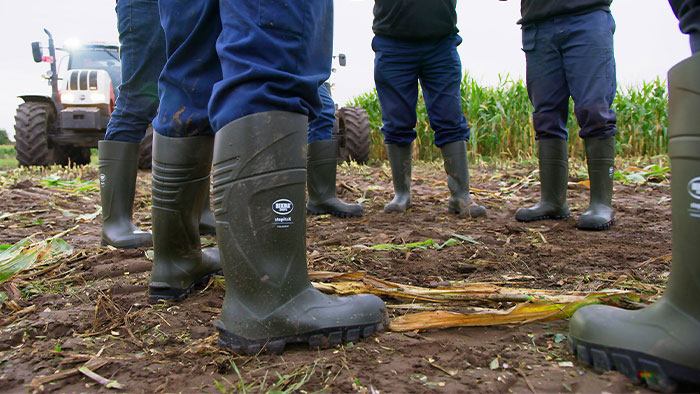 The best rubber farming wellies are essential for your day-to-day work on the farm. Whether you walk around in them for a whole day or just a few hours: buying strong, comfortable and safe farming wellies will make your work in the field and stables a lot more pleasant. With the right footwear, you will suffer less fatigue, experience no discomfort and not have to worry about losing income due to work accidents, such as slipping or a heavy object falling on your foot.
The best rubber wellies for farming aren't made of rubber
But what are the best rubber wellies for farming? They are actually not made of rubber, but of NEOTANE. This high-quality polyurethane has been specially developed by Bekina Boots to produce strong, flexible and lightweight wellies for farming as an alternative to rubber wellies.

Bekina Boots NEOTANE wellies stand out firstly because of their weight. Compared with rubber and PVC wellies, they are 40% lighter and therefore more comfortable to wear all day long. In addition, NEOTANE is stronger and therefore more durable: on average, Bekina Boots wellies last three times longer than farming wellies made of any other material. Good for the environment, but also for you as an independent farmer. After all, boots that last longer save a lot of money!

Flexibility, insulation and a wider shaft
According to the testimonials for Bekina Boots farming wellies, they are loved by farmers for their increased comfort. NEOTANE polyurethane is a very flexible material, which is useful if you have to squat or kneel a lot. But Bekina Boots wellies with a wider shaft, such as the StepliteX SolidGrip, are also an extra-comfortable alternative to rubber wellies for men with sturdy calves. Or you can choose a calf boot like the MidliteX SolidGrip or the RigliteX SolidGrip. Are you a farming woman looking for rubber wellies or do you have slimmer calves? Then the Steplite EasyGrip wellies with a fit that is slightly tighter around the legs are ideal for you.
Polyurethane is also a suitable alternative to rubber wellies for farmers who work a lot in the cold outdoors. This is because the NEOTANE wellies from Bekina Boots provide extra thermal insulation to keep your feet nice and warm. Those who work in really cold temperatures choose the supple StepliteX ThermoProtec wellies that insulate down to -40 °C or the Thermolite IceShield that provide thermal insulation all the way down to -50 °C.
These winter wellies are interesting, for example, in the milking parlour or for leek farmers who have to stand still for a long time while they rinse their vegetables in a cold, wet shed. As farmer Ivo from Anzegem says in his review of Bekina Boots:
"We stand there five days a week, about eleven hours a day on the wet concrete floor. Because you're standing still most of the time, it's also cold. On top of that, the pieces of leek that fall on the ground are very smooth and you can slip on them. So I need thermal rubber wellies that are warm, waterproof and slip-resistant."
Safety first
As a farmer, you're not only concerned about comfort but also safety. Because you often work alone in extreme conditions, accidents can happen in an instant, but a pair of safety wellies can prevent a lot of things from happening. Bekina Boots farming wellies are SRC-certified. This means they are slip-resistant and therefore guarantee better grip on slippery surfaces. Whether you're working in mud, on a slippery concrete floor or getting onto the tractor with wet wellies: wellies with a firm grip keep you safe and prevent you from falling.
You can also make your farming wellies extra-safe by choosing rubber wellies with a steel toe. This complies with safety level S4. Want even more protection? Choose safety level S5 boots with a steel or non-metallic toe cap and midsole.
The safety of our farming wellies has been proven in our laboratory, where we test the resistance of the polyurethane material to heavy and sharp objects, among other things. But above all, the necessary certificates issued by globally Accredited Test Institutes are important. In that respect too, Bekina Boots wellies meet all the predefined requirements and standards.
And on top of that …
Sometimes it's the little things that make a pair of work wellies the best rubber wellies for farming. In addition to their durability, comfort and safety, Bekina Boots farming wellies are made of NEOTANE polyurethane:
easy to clean thanks to their flat, seamless finish - especially at the transition between shaft and sole, where no soil or dust can get stuck;
very easy to take off with the kick-off spur at the back;
supplied as standard with removable insoles or ergonomic footbeds;
produced in Belgium since 1962 and available worldwide.
Still need help choosing wellies that meet all your personal needs? Our farming wellie checklist is here to help.