Buy farming wellies for men and women
3 October 2022 - 2 min. reading time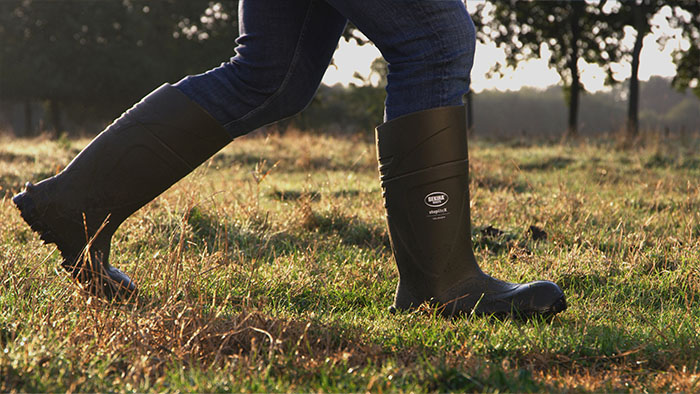 When you want to buy new farming wellies, there are several requirements they have to meet. Whether you are looking for wellies for men or women, the best work wellies for farming are comfortable and safe,so as to make your working days in the field or in the barn as pleasant as possible.

Just what you're looking for? Then Bekina Boots is the right place for you. Because our wellies made of NEOTANE, a high-quality polyurethane, are specially developed to meet all your requirements. A first advantage of NEOTANE is that the material is lighter than rubber and PVC. This makes the wellies feel less heavy, so your legs are not as likely to get tired. NEOTANE is also more flexible. Stiff PVC wellies can pinch around the calves (especially if you wear trousers and/or overalls in them), and Bekina's farming wellies don't do that.

Not only the material, but also the design of our wellies enhances your daily comfort. All our wellies are unisex and suitable for everyone, but often men prefer wellies that are looser around the calves and women prefer wellies with a tighter shaft. So if you want to buy farming wellies for men, you should usually choose StepliteX SolidGrip or StepliteX ThermoProtec. Both have a wider shaft and are therefore not as tight around the calves. Or choose a calf wellie such as the MidliteX SolidGrip. Are you looking for farming wellies that fit more closely around the legs and are narrower around the foot, for example for women? Then the Steplite EasyGrip wellies are perfect.

There are wellies with different safety levels for both men and women. These include farming wellies with a steel toe (level S4), with a steel toe and an anti-perforation midsole (level S5) and without safety toe cap and sole (level O4). For work wellies with a steel toe for women, choose the Steplite EasyGrip, available at levels S4 and S5. If you are looking for farming wellies with a steel or non-metallic toe cap and protective midsole for men, you can choose an S5 wellie from the StepliteX range.
When talking about safety, slip resistance is also very important. All Bekina Boots are SRC-certified. This means that they are slip-resistant and therefore guarantee better grip on slippery surfaces. Wellies with a firm grip keep you safe and prevent you from falling.

Our work wellies are perfect for working in the stable or the fields. But perhaps as a vegetable farmer you also often work in a wet, cold shed or spend a lot of time in the field during the winter months. Then you can buy a Bekina farming wellie with extra thermal insulation. The Steplite EasyGrip and the StepliteX SolidGrip will keep your feet warm down to -20 °C or -30 °C. Our StepliteX ThermoProtec, however, goes one step further and protects you from cold all the way down to -40 °C. For really extreme temperatures, there are our Thermolite IceShield wellies that protect you at temperatures as low as -50 °C.

By the way, did you know that we work together with several farmers who test our farming wellies? By sharing their experiences with us, we can continue to optimise our products and truly meet the demands of the agricultural sector.