Buying work wellies for the food processing industry
6 June 2022 - 4 min. reading time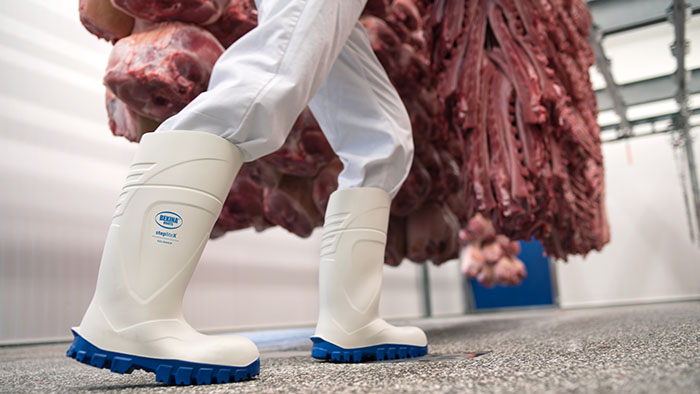 Whether you are responsible for buying work wellies for the whole company or have to buy your own work wellies as an independent butcher, today there is a wide choice of different kinds of work wellies for the food processing industry. There are rubber wellies, PVC wellies and polyurethane wellies. We will help you choose the right work wellies for your employees or for yourself.
1. Choice of material: do I go for wellies made of rubber, PVC or polyurethane?
When you think of work wellies for the food processing industry, you probably think of rubber or PVC wellies. But have you heard of polyurethane? At Bekina Boots, we work exclusively with NEOTANE, a high-quality polyurethane developed and tested in our own lab.
The 5 main advantages of NEOTANE wellies versus rubber and PVC wellies:
40% lighter in weight thanks to the polyurethane structure consisting of small air bubbles. You experience more comfort while wearing them and are less likely to suffer from tired legs at the end of a hard work day.
A flexible material that offers great freedom of movement and comfort.
Extra protection against cold temperatures. NEOTANE has a high thermal insulation value, which keeps your feet warm even in extremely cold conditions. The optimal air circulation in the wellie also ensures you don't get sweaty feet.
Stronger and more durable so you don't have to replace our NEOTANE work wellies as often, which means you don't have to buy wellies as often. Good for your wallet and more sustainable for the planet.
Made from 100% safe components.
Did you know that: Every pair of Bekina Boots work wellies is fitted with an RFID tag in the right boot? This allows you to scan, identify and track the wellies.
2. Food safety: is colour coding desirable?
In the food processing industry, you want to avoid contamination or contaminated food at all costs. Multiple control systems and a hygiene lock are therefore standard in many food processing companies today. Does your company consist of different departments where cross-contamination has to be avoided? Then go for efficient colour coding with our Steplite EasyGrip and StepliteX SolidGrip, available in different colours like white, blue, green and yellow. Assign each department its own colour and avoid cross-contamination.

Are you a self-employed butcher with your own shop? Then a good pair of Bekina Boots work wellies in one colour will suffice. Go for white so you can check if your work wellies are really clean after cleaning.

Did you know that: the shaft and sole of our wellies for the food processing industry fit seamlessly together so that no dirt can get stuck behind an edge? And the sole profile of our wellies is designed to be very easy to clean? Two extra assets in a sector where safety and hygiene go hand in hand.
3. Thermal insulation value: how cold is the working environment?
Men and women working in a food processing plant or a butchery often work in refrigerated areas all day. Dressing warmly is a must, and that includes a good pair of thermally insulating wellies. After all, cold feet cause your body to cool down faster, which is anything but comfortable.

Our Steplite EasyGrip and StepliteX SolidGrip guarantee warm feet down to -20 °C and -30 °C respectively. They are therefore very popular as standard work wellies for the food processing industry. For those who have to brave even colder temperatures, StepliteX ThermoProtec (-40 °C) and Thermolite IceShield (-50 °C) offer extra warmth.
4. Safety: is extra protection a must?
No problem! Our work wellies are extensively tested in accredited test labs. They meet the latest international standards in terms of both hygiene and safety and are SRC-certified. SRC stands for Slip Resistant Certified and this test involves testing the non-slip performance of the sole on a ceramic tile moistened with diluted soap solution and on a smooth steel plate with glycerol. Our work wellies meet and even exceed all requirements!

All our wellies have excellent grip (SRC) to prevent slips and falls. Not only do you feel safer, the number of work accidents due to slipping is effectively reduced when everyone on the shop floor wears slip-resistant work wellies. Important, because as many as 25% of all accidents with serious injuries are caused by slips resulting in incapacity for work. Non-slip Bekina wellies prevent this, saving the company additional costs.

All our work wellies for the food processing industry also feature a safety toe cap, which provides protection against sharp or heavy falling objects. The Steplite EasyGrip is also available in a version without safety toe cap (O4).

Depending on the colour choice, the Steplite EasyGrip and StepliteX SolidGrip are available with a steel toe cap (S4) and sometimes also with a steel toe cap and steel safety sole. The Thermolite IceShield even has this safety toe cap and sole as standard. Only the white StepliteX ThermoProtec is not available with a safety sole, but it does have a composite toe cap as standard (S4). Here the steel safety material is replaced by composite because this material does not interfere at all with the metal detectors used in the food processing industry.
5. Comfort: how do I avoid sore feet and tired legs?
When you work in the food processing industry, you often wear your work wellies all day long. So they need to fit just as well as a comfortable pair of shoes, because you don't want to end up with sore feet and tired legs at the end of or half-way through your working day.

We mentioned above that our Bekina Boots work wellies are 40% lighter than rubber or PVC wellies. This makes your legs less likely to get tired and makes your working day a lot more enjoyable.

The removable insole also provides extra comfort for your feet. The sole feels soft and provides good shock absorption. Do you need to replace your insoles, but your wellies are still in good condition? Then you can just replace the sole.

The feel of the wellie around your calf is also very important. This should not be too loose, but not too tight either. The shaft of the Steplite EasyGrip is slightly narrower, making it one of the most popular work wellies for women. Men with wider calves may prefer the StepliteX SolidGrip, StepliteX ThermoProtec or Thermolite IceShield. Their wider shaft is also perfect for those who wear several layers to protect themselves from cold temperatures. This way, your socks, trousers, overalls, etc. don't pinch in your work wellies and don't cause discomfort.

Finally, the kick-off spur at the back provides extra convenience when you need to remove your wellies during a break or at the end of the working day.

Are you looking for work wellies for the food processing industry? Discover our range of wellies for men and women on our website.