Checklist: How to choose the best farming wellies
2 May 2022 - 2 min. reading time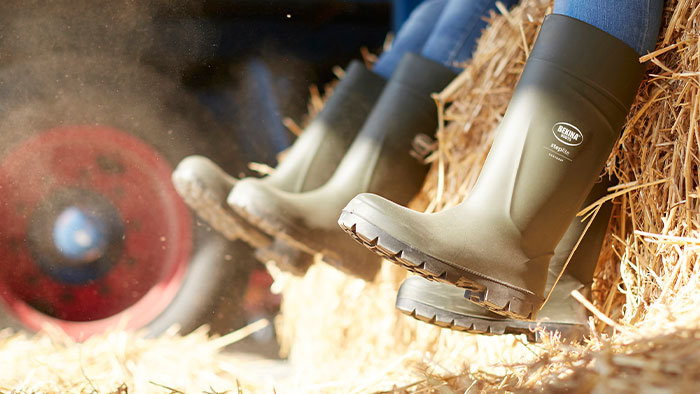 Are you a farmer and looking for a new pair of wellies? But you don't know which ones to choose from the wide range on offer? Then you've found the right page, because this checklist will help you find out which farming wellies are best suited to your day-to-day work on the farm.
Checklist question 1: Do you want tight-fitting farming wellies or do you prefer wide ones?
A good fit means something different for everyone. That is why the Bekina Boots range includes farming wellies with a narrower fit as well as wellies with a wider shaft. So decide whether you need a little more room for sturdy calves or thick winter overalls, or if you prefer a narrower fit.

As farmer Dominique says in his review: "The StepliteX SolidGrip work wellies for men are my favourite. I find these the most comfortable, because they have a wide shaft so that you don't feel trapped when wearing jeans and overalls in them."

Those looking for a more tight-fitting farming wellie can choose the Steplite EasyGrip instead. Both are often chosen as polyurethane wellies for women.
Checklist question 2: What safety level do you need?
In addition to their fit, the different Bekina Boots farming wellies vary in terms of safety level. This refers to the safety material incorporated into the wellie that protects you from, for example, falling objects, a kick from a cow or sharp materials on the ground. Choose a safety level according to what you, as a farmer, will encounter.
Level O4: work wellies without safety toe cap and midsole

Level S4: farming wellies with a steel or non-metallic toe cap

Level S5: safety wellies with a steel or non-metallic toe cap and anti-perforation midsole
Good to know: with Bekina Boots, the safety material is always incorporated into the wellie in such a way that you don't notice it at all. So the steel toe cap and/or sole won't give your feet an unpleasant cold feeling, but you will still be fully protected.

When talking about safety, slip resistance is also very important. All Bekina Boots are SRC-certified. This means that they are slip-resistant and therefore guarantee better grip on slippery surfaces. Wellies with a firm grip keep you safe and prevent you from falling.
Checklist question 3: What are your thermal insulation requirements?
The thermal insulation of your farming wellies is also crucial. You may well be working long hours in a cold, wet field or in a shed with a concrete floor. Then you need something more to keep your feet warm and comfortable. The Bekina Boots range of farming wellies features wellies with insulation down to -20 °C as well as winter wellies with extra thermal insulation. Take the StepliteX ThermoProtec safety wellies with non-metallic toe cap and anti-perforation sole, for example. These wellies offer full safety, insulate down to -40 °C and have a flexible, shock-absorbing sole. The perfect combination of safety, thermal insulation and comfort. This makes these winter wellies perfect not only for working in the field, but also for driving your tractor. In addition, we also have the Thermolite IceShield in the range, which keeps your feet warm right down to -50 °C. You can't get any better protection against the cold!
Checklist question 4: Are the wellies certified?
Looking for safety wellies of the best quality? Then be sure to choose wellies that have been certified by globally recognised Accredited Test Institutes. That way you can be sure of their quality and safety, because these wellies have passed severe tests and are constantly checked for quality. Bekina Boots wellies meet the European standards as well as the requirements of the Australian Standard, the Canadian Standard and the American ASTM.
Still need help choosing the best farming wellies and can't find the answer in this checklist? Use the boot advisor and find out straight away which wellie is best for you.