Comparison of rubber wellies for the food processing industry
5 December 2022 - 3 min. reading time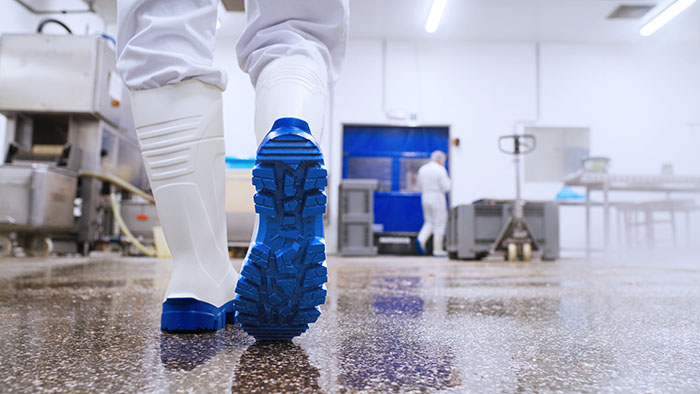 Do you work in the food processing industry and want to buy suitable footwear for you and your team members? Then you are probably looking for safety wellies made of rubber. But did you know that there are also boots made of polyurethane, like those from Bekina Boots? This material and the other strengths of Bekina's wellies offer many advantages over regular rubber wellies for the food processing industry. Not only for the comfort and safety of employees, but also for the company's wallet!
Polyurethane versus rubber and PVC wellies for the food processing industry
Bekina Boots makes wellies for the food processing industry out of NEOTANE. This is a high-quality polyurethane 'recipe' that we have developed specifically to produce safety wellies. Because Bekina is a group of companies specialising in plastic materials, the synergy between the various business units ensures constant renewal and innovation.

Polyurethane is characterised by a unique bubble structure. This makes the material stand out in terms of:
weight
flexibility
thermal insulation
durability
Bekina Boots wellies made of NEOTANE polyurethane are 40% lighter than rubber or PVC. In addition, the composition of our polyurethane also provides extra flexibility. Both factors increase comfort, meaning that the wellies are more pleasant to walk around in all day and do not cause tired legs. Moreover, flexibility is maintained at extreme temperatures, which is an advantage over PVC wellies, which become less flexible over time.

The bubble structure also provides additional protection at extreme temperatures. Our wellies provide optimal thermal insulation, and their self-regulating thermal inner layer keeps your feet nice and warm. Important for the food processing industry, whether you work in a frozen food warehouse or are looking for butcher's wellies or rubber wellies for a butcher's shop or any other branch of the food processing industry.

The quality and durability of our NEOTANE polyurethane are not only proven in accredited test labs: the reviews of our wellies on the shop floor also indicate that Bekina is the best choice for the food processing industry.
Strong and durable design
Bekina Boots wellies are stronger than other safety wellies. Why is that? Because of our innovative production process! During production, we inject a mixture of polyol and isocyanate into the moulds. First we form the shaft, then the sole.

In addition, the injection point of our wellies is at the top, unlike other boots where it is at the back of the heel. The heel of the wellie is a weak spot anyway, but if the injection point is located there as well, the wellie may break down more quickly. With Bekina Boots, the injection point is at the front, which makes our wellies less prone to breakage in that area. At the heel we have added a handy kick-off spur, which not only makes it easy for you to remove your wellies but also strengthens the heel.

Our unique design also ensures greater comfort. For example, the wider shaft of the StepliteX SolidGrip ensures that you do not feel your legs are trapped and you can easily wear the wellies over trousers or overalls. Compare this with rubber wellies, which are too tight on the calves for many men. But we also provide extra comfort through the shock-absorbing heel: you experience a feather-light walk and your legs do not tire as quickly.
Certified safety guarantee
At Bekina Boots, safety is paramount. So, whether you wear the wellies yourself every day or buy them for your employees, you can rest assured. Our wellies for the food processing industry have global certifications and even exceed the imposed standards.

Bekina Boots wellies are SRC-approved, which means they are slip-resistant on all surfaces. One of the reasons for this superior grip is that our wellies have more contact with the ground - where most wellies have a curved top, Bekina Boots wellies have the full sole on the ground.

Our safety wellies for the food processing industry are available in different safety classes: basic O4 without safety toe cap, class S4 with steel or composite toe cap or class S5 with steel toe cap and sole. So you can choose your wellies based on the challenges you and your team face every day.

In addition, our safety material is incorporated into the polyurethane material from which the wellie is constructed. What does that mean? That you experience more comfort as your feet are not in direct contact with the steel or composite top and sole.
Hygiene
Perhaps the most important factor for rubber wellies in the food processing industry: hygiene! Bekina Boots wellies are extra-hygienic as they are first of all very easy to clean. The smooth transition from shaft to sole means that there is no ridge for dirt to get trapped in. The insoles are also easy to care for and can be washed at 30 °C.

In addition, you can buy Bekina Boots wellies for the food processing industry in various colours. This is useful for food companies with different departments that need to avoid cross-contamination or contamination to ensure food safety. For example, you can choose white rubber wellies with a steel toe cap for one department and blue wellies for the other.
Cost and sustainability
So you already know that our wellies are more durable and last longer than rubber and PVC wellies. But have you considered that this is not only better for our planet, but also for the costs you incur as a company? Every pair of wellies is also fitted with an RFID tag in the right boot, which gives each of them a unique traceable number. This also helps to avoid contamination, but in addition allows you to track how long each employee wears their wellies and thus calculate the cost of the wellies on an annual basis.

After this comparison between our NEOTANE wellies and other rubber wellies for the food processing industry, are you convinced of the strengths of Bekina Boots? Check out our work wellies now on our website.