Dominique has been wearing our farming work wellies for 10 years! Read his review here
1 August 2022 - 3 min. reading time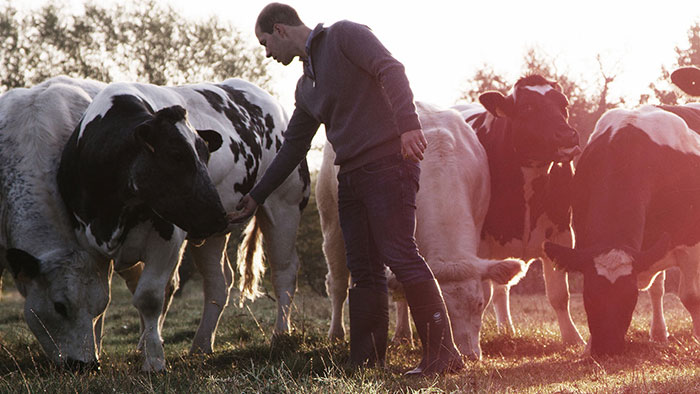 Farmer Dominique Van Simaeys also confirms in this review that Bekina Boots farming wellies score better than regular rubber or PVC wellies. Bekina Boots is a Belgian family company that designs and produces work wellies for different sectors, with farming being one of the largest. The wellies are not traditional rubber wellies, but are made of NEOTANE. This high-quality polyurethane offers several advantages in terms of comfort, thermal insulation and durability.
"I've been wearing Bekina Boots work wellies for farming for almost 10 years," says Dominique in his review. "And I mean it when I say that I'll never have to change my wellies again!" We asked Dominique a few questions about his profession and how Bekina Boots wellies help him. Do you also want to buy work wellies for farming and would like a recommendation from a colleague in the sector? Then read on!
Farmer Dominique: "The comfort of Bekina Boots work wellies for farming is truly unbeatable."
Hi Dominique! Can you tell us more about your farm?
"I have a farm in Deinze (BE) together with my parents. We focus on livestock for fattening and dairy cattle. We maintain a total of about 350 to 400 cows. In addition, we cultivate some 64 hectares of crops, including maize, maize meal, winter barley, legumes, winter field beans and grass clover."

You work together with your parents. Is your farm a real family business?
"Yes, we're one of those typical Flemish farms." (laughs) "My parents took over my grandparents' farm in 2001. In 2019, I formed a farming partnership with my parents so that I can help them grow and in turn take over the farm from them.

People used to think of a farmer simply as a farmer, but in fact we're really entrepreneurs. In addition to the operational work in the stables and on the fields, I'm also a representative of our business. So I'm not only busy on the farm, I'm also out and about a lot."

What do you like about your job in farming?
"That I can work and be close to nature. That combination is fantastic. I can work with my hands in the fresh air, but I'm also free to engage in business."

When did you start wearing Bekina boots?
"How I came to know Bekina Boots is quite a funny story. Our family is actually from Ruien, close to Kluisbergen where the Bekina Boots factory is located. So we drove by there quite often and were already very familiar with the name Later, some 8 to 10 years ago, we bought a pair of work wellies from Bekina Boots. And we've not worn anything else since: Bekina Boots really are the

best work wellies for farming

!"

Why? What do you like about Bekina Boots farming wellies?
"For a farmer working all day in the barn or in the field, comfort is the most important thing. With Bekina work wellies, I can work for a whole day, even days, without getting sore feet or heavy legs. I never experienced that with other wellies. The comfort of Bekina Boots work wellies is truly unbeatable."

Do you have a favourite wellie?
"The men here wear the StepliteX SolidGrip work wellies with steel toe cap. I find these the most comfortable, because they have a wide shaft so that you don't feel trapped when wearing jeans and overalls in them. In addition, they're very easy to clean and don't allow dirt to creep in, which is important in our profession."

What can you say about the safety and slip resistance of the wellies?
"The outsole of the wellies is extremely slip resistant, and that safety isn't reduced the longer you wear them. I also wear Bekina boots with a steel toe cap, because when I walk among the cows I can't risk them stepping on my feet with their heavy hooves. I do get kicked every once in a while though!"

How long does a pair of wellies last?
"I wear work wellies in the barn, in the field and even throughout the day. I even got married in them." (laughs) "I take good care of them and they last at least a year and a half despite intensive use, so much longer if you only wear them occasionally."


---
Are you looking for wellies for farming? You'll find exactly what you're looking for in the Bekina Boots range, whether it's work wellies for men or women with a steel toe cap or a pair of thermal wellies that offer extra protection in cold temperatures. Discover all our farming wellies on our website.