Green fingers? Discover the best rubber gardening wellies.
7 November 2022 - 1 min. reading time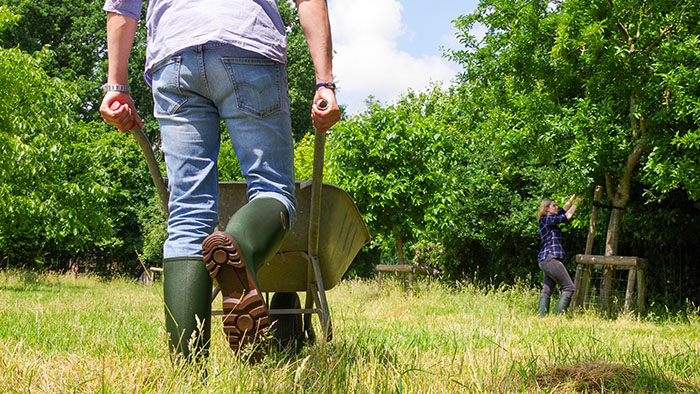 Feel like working in the garden? Then you're probably looking for some rubber gardening wellies! Gardening has long since ceased to be something just for country folk with lots of spare time. More and more, we are taking to the garden to relax, as a family activity or to improve our health. The outdoor air and the meditative work calm us down, but also help us to build up physical strength.

Whether you're mowing the lawn, working in the vegetable garden or trimming the hedge, waterproof and insulating comfortable outdoor wellies will make your outdoor activity even more enjoyable. But did you know that besides rubber gardening wellies, there are also wellies made of other materials for your outdoor hobby?

At Bekina Boots, we make gardening wellies out of NEOTANE, a high-quality polyurethane. Compared with rubber gardening wellies, they are lighter and stronger, so they feel more comfortable and last longer. All NEOTANE gardening wellies are naturally thermo-insulating and feature a kick-off spur at the back of the heel. This makes it very easy to take off the boots - super-convenient and extra-quick!

Discover Bekina Boots Litefield, perfect for men and women looking for rubber rain wellies for the garden. These NEOTANE wellies are flexible and have an elegant fit. Bekina Boots Litefield are the best outdoor wellies for light gardening work, but you can also wear them as walking boots or even hunting boots in addition to gardening. They are also very stylish thanks to their sleek finish and have a non-slip sole.

Looking for boots for heavy garden work? Then upgrade to the Bekina Boots Steplite EasyGrip or the StepliteX SolidGrip with a wider fit. Both wellies combine all the benefits of polyurethane with even better grip thanks to the SRC-certified sole (SR = Slip Resistance). Extra-safe for gardening on slippery surfaces or in the mud. If you're looking for short gardening wellies for men or women, we would point you in the direction of our MidliteX SolidGrip calf boots. Please note: we do not recommend these as rain wellies as the shorter shaft does not offer optimum protection in rainy weather.

So: buying rubber gardening wellies? Choose the NEOTANE Bekina Boots that suit you best.