Looking for rubber farming wellies with a steel toe cap? Try Bekina wellies
6 March 2023 - 2 min. reading time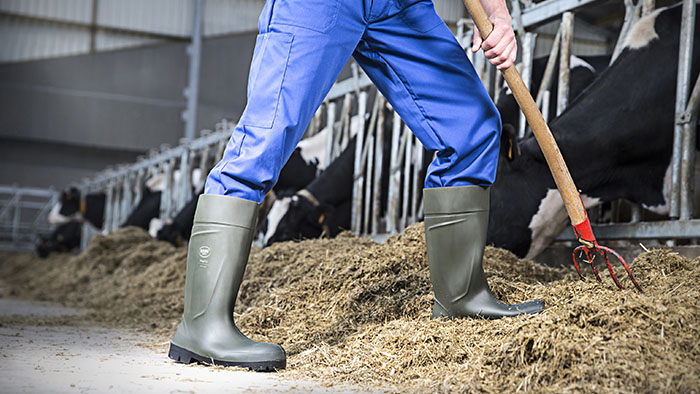 Whether you are working in a milking parlour among the cows or driving a machine in the field all day, safety is always paramount. That is why it is important for farmers to wear the right clothes to ensure their safety, such as rubber farming wellies with a steel toe cap.

Are you looking for the best rubber farming wellies with a steel toe cap? Then browse the Bekina Boots range of farming wellies for men and women. The steel toe cap is extra-high, so you are optimally protected against any danger.

Bekina 'rubber wellies' are not actually made of rubber, but of NEOTANE, a high-quality polyurethane. Compared with rubber farming wellies, NEOTANE wellies are stronger and more durable. So you don't have to buy a new pair as often - great for your wallet!

Safety wellies with a steel toe cap protect you as a farmer from heavy falling objects, a kick from a cow or horse, accidents with machines and much more. For example, farmer Frank from Ireland testifies about how his Bekina Boots saved his life in a farm accident:

"I was working alone in the field at night when the bucket on our tractor hit my leg. I didn't have my mobile phone with me, so I had to manage by myself. Fortunately, the steel toe cap of my Bekina Boots wellies withstood the weight of the bucket so I could pull my foot out.

My leg was broken, but thanks to the safety wellies I was able to free myself and stumble home. Otherwise, I would have been trapped under the bucket, not been found til the next morning and probably not have survived the freezing cold night (-5 °C).

The bucket must have weighed just under a tonne, so the steel toe cap must have withstood a huge amount of pressure. I owe my life to my Bekina Boots!"

Did you know, by the way, that you can increase your safety even more with a steel toe cap and protective anti-perforation midsole? At Bekina Boots, you can buy farming wellies with safety level S4 (steel toe) or safety level S5 (steel toe cap and anti-perforation sole). The safety material is always incorporated into the polyurethane, which means your feet are not in direct contact with the steel, so you don't experience any cold feeling.

In addition, if your job requires it, you can buy the StepliteX ThermoProtec or Thermolite IceShield winter farming wellies, which keep your feet warm down to -40 °C and -50 °C respectively. Both are available in safety level S5.

When talking about safety, slip resistance is also very important. All Bekina Boots are SRC-certified. This means that they are slip-resistant and therefore guarantee better grip on slippery surfaces. Wellies with a firm grip keep you safe and prevent you from falling.