Looking for the most comfortable fishing wellies?
2 September 2021 - 3 min. reading time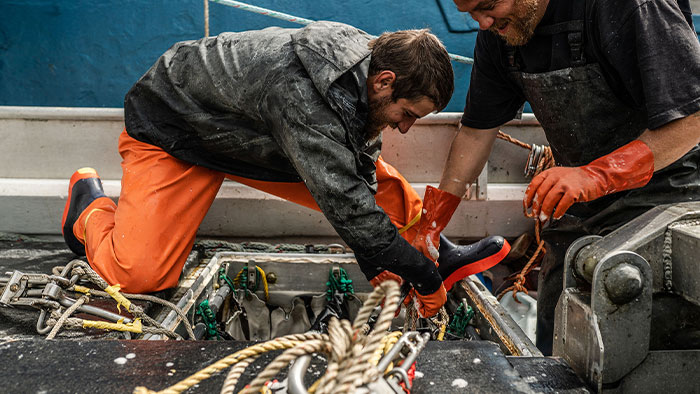 As a professional fisherman, the quality of your equipment is very important. Whether you work at sea or in an aquaculture environment, your job as a fisherman is always tough and intense. The right fishing clothes not only ensure that your work runs smoothly and safely, they also offer extra comfort and therefore provide increased motivation and a better work experience.

In addition to rainwear for fishing such as a mackintosh and bib-overalls, fishermen are constantly on the lookout for the best fishing wellies. But how do you find the most comfortable wellies for commercial fishing? In this blog, we will tell you which characteristics your boots should meet and how Bekina Boots offers the ultimate answer.
The importance of good fishing wellies
A recreational fisherman may get by with a rod and some bait, but commercial fishing is a different matter altogether. Perfectly maintained equipment is crucial for the safety of the entire crew. Most fishing accidents are caused by fishermen slipping and falling overboard. The cause of this? Fishing wellies that don't offer enough grip on the wet, greasy deck of the boat.
But the best wellies for commercial fishing provide more than just safety. Fishermen spend a long time working in extreme conditions at sea and therefore need wellies with extra comfort. This helps them avoid aching or tired legs and increases their motivation and energy.
Characteristics of the most comfortable wellies for commercial fishing
Waterproofness
Of course, it's important that the wellies are waterproof when at sea. As a fisherman, you are constantly in contact with water and you want to avoid getting your socks and feet wet, because that's not a very pleasant feeling. Waterproof boots prevent moisture from penetrating the footwear, keeping your feet dry.
The polyurethane material used for shaft and sole of the Bekina Boots wellies is impervious. This protects your feet not only from water, but also from dirt and chemicals.
Thermal insulation
While being waterproof goes a long way to keeping your feet warm, you also need insulated fishing wellies. Temperatures on the water can drop quickly, especially in the coldest places and at the darkest times of the day.

The Bekina Boots StepliteX StormGrip wellies are specially designed to insulate down to -40 °C. With a self-regulating thermal inner layer and a polyurethane structure of small air bubbles, these fishing wellies ensure that you never have cold feet.
Lightweight
Fishing is a tough job. Lugging thick, heavy fishing wellies around all day really is no fun. Therefore, as a commercial fisherman, it's best to look for wellies that are lightweight. Pay particular attention to the material. For example, Bekina Boots NEOTANE polyurethane wellies are 40% lighter than rubber fishing wellies or PVC wellies for fishing.
Strong and durable material
Of course, your light fishing wellies also have to be strong enough. Heavy-duty fishing wellies are essential for the harsh, extreme conditions you work in at sea to provide us with fresh fish. NEOTANE again scores highly here as a light but high-quality and strong material that is therefore more durable than the alternatives. Bekina Boots polyurethane wellies last up to three times longer than rubber or PVC wellies.
Slip-resistance of the sole
Bekina Boots StepliteX StormGrip wellies have an excellent SRC-certified sole. This means it is slip-resistant and therefore prevents you from slipping on the deck. This is one of the most important requirements for fishing, because you don't want you or your crew to be injured or fall overboard.
In addition, Bekina Boots fishing wellies have a yellow rubber pad on the sole. This provides extra grip, stability, abrasion resistance and soft cushioning.
Closed outer rim
Our StepliteX StormGrip fishing wellies have a closed outer rim. The smooth finish of the outsole prevents net trapping that could cause slips, trips and falls. Yes, Bekina Boots have thought of everything with their fishing wellies!
Easy to maintain
Anyone who wears their wellies intensively every day wants to be able to clean them easily and without too much fuss. The smooth finish of the Bekina Boots wellies for commercial fishing makes them easy to wash without grease or dirt getting into the edges. Cleaning your wellies regularly also helps you to take better care of them and make them last longer.

In addition, all Bekina Boots fishing wellies come with ergonomic footbeds. This ensures extra comfort. They can be easily removed for airing, drying and machine washing at a maximum temperature of 30 °C.

Do you have any questions about the maintenance of your fishing wellies? Find out how best to clean them here.
The most comfortable fishing wellies from Bekina Boots
Bekina Boots is a Belgian company that manufactures NEOTANE wellies for various sectors. For commercial fishing, we designed the

StepliteX StormGrip

, a wellie that meets all the requirements of a professional fisherman. How? The wellies are:

100% waterproof;
fitted with an SRC-certified sole;
equipped with a yellow rubber pad that provides extra grip, abrasion resistance and soft cushioning;
made with a closed rim to avoid net trapping;
resistant to fats, oils and chemicals.
So with Bekina Boots you get all the features of the most comfortable fishing wellies! The proof that our wellies are comfortable and safe is not just something theoretical. In practice, too, Bekina Boots fishing wellies prove to be number one in the sector. We test our entire product range in our own laboratory for strength, quality, wear and safety through various tests. But we also receive information and feedback from fishermen who test Bekina Boots wellies 'on the job' and help us to constantly improve the product.

Convinced about the most comfortable fishing wellies ever? Check our website for more information.