The best outdoor boots for any outdoor activity
4 July 2022 - 6 min. reading time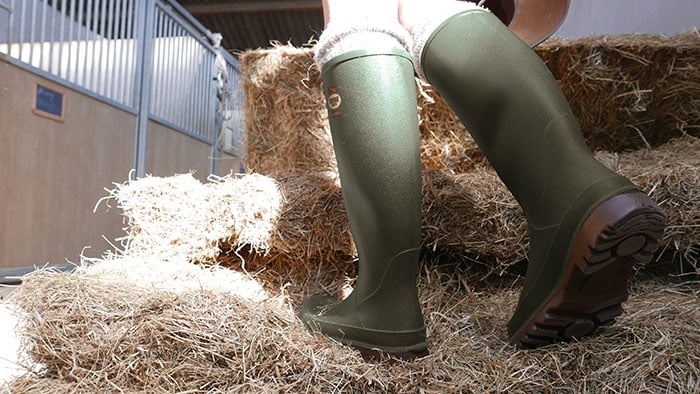 Maybe you're an avid hiker, like to work in the garden or go hunting in the woods at the weekend. Whatever your hobby, you will be looking for outdoor boots that provide comfort and safety. Wondering what the best outdoor boots are? In this blog we will explain what makes a good outdoor boot, why it is smart to invest in one and what to look out for when choosing your new pair of boots.
What do you need outdoor boots for?
There are various outdoor activities that require a sturdy, waterproof and warm pair of outdoor boots. Growing vegetables in the garden, for example or mowing the lawn or cleaning the patio. But also walks in the forest, by the sea, through muddy fields and through rain or snow. Whether you're getting some fresh air, taking a weekend off with the family or going hunting with your friends. Every outdoor activity requires the right footwear!
Why invest in the best outdoor boots?
Of course, you can wear normal shoes when gardening or walking. But the best outdoor boots will make your experience in the great outdoors a lot more enjoyable, more comfortable and safer. So how do outdoor boots differ from walking shoes?
Firstly, outdoor boots are waterproof. This will keep your feet dry when it's raining, snowing or when you're stepping through a boggy field or forest.
The higher shafts of the outdoor boots provide you with even greater protection against mud and water than when wearing walking shoes.
In addition, they are usually thermally insulating. This means they ensure extra-warm feet when it's cold outside.
Depending on the material, outdoor boots are often lighter (and therefore more comfortable) than classic walking shoes.
The best outdoor boots have a non-slip sole, so you won't slip on slippery surfaces.
In addition, outdoor boots are easier and quicker to clean than walking shoes and are also quicker to dry.
The cheapest pair of rubber boots will get you through a weekend at a festival but, if you plan to use them for a longer period of time, you should choose a pair of durable boots. It's wise to invest in outdoor boots to enhance your comfort and safety while walking, working in the garden or any other outdoor activity. After all, nothing puts a damper on the experience like aching, tired legs, cold feet or constantly slipping on the slippery floor. The right boots will help you avoid all these issues and ensure you have a pleasant time in the fresh air.

Investing in boots made from a strong and durable material is the smartest option. The best outdoor boots last longer so you don't have to replace them as often - good for the environment and good for your bottom line. You may not be choosing the cheapest boots but, in the long run, they will be more cost-effective.
What should you look for when choosing outdoor boots?
Just as you check various features in the shop when buying walking shoes, you also need to choose your boots very carefully. This is the only way to find the best outdoor boots that match what you are looking for. It is important to know what you want to wear your boots for. Planning to do a lot of walking? Then be sure to choose a pair of boots with a shock-absorbing heel for extra comfort. Will you be using your boots for different activities? Then make sure they are suitable for every hobby. You can choose a pair of outdoor boots to wear in the winter for walking in the snow, but also in the summer for gardening or hunting.

When choosing your outdoor boots, first pay attention to the material. Bekina Boots makes outdoor boots out of NEOTANE polyurethane: a material that is lighter, stronger and more durable than rubber and PVC. Bekina Boots has a boot for every outdoor activity, whether you are originally looking for ultra-light walking shoes or heavy-duty winter boots.

Secondly, fit is important. Every pair of feet (and calves) is unique and some people prefer a close-fitting boot, while others want a bit more space around the legs. Decide whether you are looking for a close fit, prefer rugged boots or might even consider calf boots.

Also look at the level of thermal insulation you need. This depends on what you are going to use your boots for. Will you only be working in the garden in summer? Do you also want to go for a walk in the snow in winter? Or are you a hunter standing for hours on end and could therefore use an extra layer of warmth? Based on that, you can choose boots with a thermal insulation value of down to -20 or -30 °C.

Please note: thermally insulating boots not only provide extra comfort in winter. For example, the outdoor boots from Bekina Boots have a breathable, self-regulating thermal inner layer that prevents sweaty feet even in warm temperatures.
Bekina Boots outdoor boots for any outdoor activity
Bekina Boots is a Belgian family company that designs, develops and manufactures NEOTANE boots in Kluisbergen. The combination of years of knowledge, extensive testing in an in-house laboratory and close contact with those wearing our boots ensures that we make the best outdoor boots for any outdoor activity.

Within our range of leisure boots you will find several options to choose from, based on the above criteria. Want to discover them all?
Option 1: Litefield
Litefield is the perfect, ultra-light walking boot for men and women. Comfort and a sleek finish are paramount in these outdoor boots. They are lighter than ultra-lightweight walking shoes. Thanks to the strong and light NEOTANE material, you will experience optimal comfort and foot support throughout the day. So you are less likely to suffer from tired legs or sore feet after a brisk walk.

The flexible material and close fit ensure that the Litefield walking boots fit perfectly around your legs. Extra-comfortable for those who often find wider boots too loose. In addition, the flexible material of the shaft and sole offers optimal freedom of movement.

Thanks to the high shaft and the elegant finish, Litefield boots are also stylish. So they are not only gardening boots that protect you from mud and rain, but you can also wear them under your favourite summer outfit at a festival or open-air party. Litefield boots are also recommended as light hunting boots thanks to their quality, comfort, appearance and non-slip sole. In short, a Litefield outdoor boot has many more advantages than cheap walking shoes.
Option 2: Steplite EasyGrip
Steplite EasyGrip boots are styled differently to the Litefield product. Although these boots still have a more standard fit and insulate down to -20 °C, they tend to be more work boot-like in their design. They have a very slip-resistant sole that is also SRC-certified. Steplite EasyGrip are ideal as comfortable boots for heavier garden work.
Option 3: StepliteX SolidGrip
Bekina Boots StepliteX SolidGrip boots combine comfort with a robust finish. Unlike the previous two models, this boot has a wider fit. Perfect for those with wider calves or who want a bit more room, for example to pull the boots over warm overalls or ski trousers.

Just like Steplite EasyGrip, the StepliteX SolidGrip boots have an SRC-certified sole. As an added bonus, StepliteX SolidGrip boots keep your feet a little warmer in cold temperatures, as they insulate down to -30 °C.
Option 4: MidliteX SolidGrip
Bekina Boots MidliteX SolidGrip boots are calf boots. This means they have a lower shaft height and are therefore ideal for those who want even more freedom of movement and have to bend or squat a lot, for example.

These boots are ideal for working in the garden. Be careful, though, because although the material of the boots is waterproof, they cannot guarantee dry feet in rain or snow. This is due to the lower shaft, meaning that water can run into the boot. MidliteX SolidGrip boots are therefore not really suitable as rain boots. If that's what you're looking for, you're better off choosing one of the previous options.
Even more advantages of Bekina Boots
In addition to all these features, Bekina Boots leisure boots stand out by virtue of a number of other advantages. Firstly, the rear kick-off spur makes it very easy to remove the boots after a brisk walk or hard work in the garden.

In addition, Bekina Boots outdoor boots are supplied with insoles or ergonomic footbeds as standard. Handy, as you can take them out to wash if necessary. This can be done in the machine at 30 °C maximum. Make sure the insoles and footbeds are always dry before putting them back in the boots.

As well as the insole, the outside of Bekina Boots outdoor boots is also easy to clean. The NEOTANE material is particularly strong and can therefore be cleaned intensively if necessary. However, due to the sleek finish of the shaft and the structure of the sole profile, you can just as easily wash them with water. Unlike many other boots, the shaft and sole join seamlessly and there are no raised edges for dirt to get stuck in. So your boots are clean again in no time.

Want to put everything together? Compare the different Bekina Boots outdoor boots in the table below and find out which one suits you best.
| | | | |
| --- | --- | --- | --- |
| Litefield | Steplite EasyGrip | StepliteX SolidGrip | MidliteX SolidGrip |
| NEOTANE polyurethane | NEOTANE polyurethane | NEOTANE polyurethane | NEOTANE polyurethane |
| Close fit | Standard fit | Wider fit | Wider fit (calf boot) |
| Thermally insulating | Thermally insulating down to -20 °C | Thermally insulating down to -30 °C | Thermally insulating down to -30 °C |
| Non-slip sole | SRC-certified sole | SRC-certified sole | SRC-certified sole |
| Shock-absorbing heel | Shock-absorbing heel | Shock-absorbing heel | Shock-absorbing heel |
Already have a good overview of the best outdoor boots? Find out which outdoor boots are best for you. Take the test with our boot advisor.