Why dairy farmers need the best boots
30 April 2020 - 2 min. reading time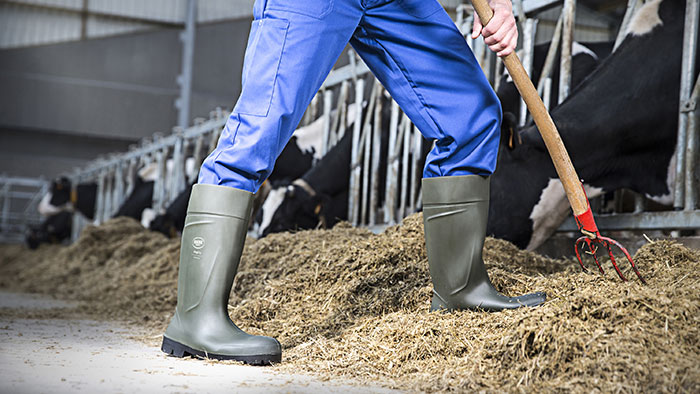 Dairy farmers attach much importance to their cows' hooves. But how good are they looking after their own feet? Let's sum up 5 reasons why qualitative work boots are essential to any dairy farmer.
PREVENT BACK PAIN AND OTHER PHYSICAL CONDITIONS
Any physiotherapist will tell you that the starting point for patients presenting with back pain is the feet. They always start at the footwear and the feet and work their way up. For instance, a lack of support under the heel and the big toe is definitely linked to lower back pain.
Cheap boots are typically pretty flimsy and flat in the sole. So it's a good thing to pay a bit more for your boots and look for a cushioned sole and a footbed that supports the arch of the foot. You need something for the arch to 'relax' onto, that holds the foot in the correct position.
If you're not wearing the correct footwear, this can also lead to damage to the feet and lower limbs.
YOU'RE SPENDING LONG HOURS ON CONCRETE
Dairy farmers can spend a significant proportion of their working day standing on concrete. And, just like their cows, this can leave them vulnerable to 'lameness'. Depending on its severity, this can have catastrophic consequences for their dairy business.
Standing on concrete is not what our feet were designed to do. It results in excessive pronation of the foot, meaning that the arch of the foot collapses and rolls inwards. As the foot pronates there is excessive biomechanical stress placed on the joints and soft tissues in the foot. This can result in a number of painful conditions in the foot itself, such as bunions and corns.
The good news is that, just as in dairy cows, 'lameness' is preventable, and it doesn't need to involve a cattle crush or a vet! Again, a good pair of work boots with a shock absorbing footbed can do some magic here.
COLD FEET
Another reason to wear qualitative work boots are cold feet. Cold feet lead to blood circulation problems and can result in chilblains and other 'nasties'. Ideally, dairy farmers should be wearing thermal insulated work boots. Lab tests revealed that NEOTANE safety boots offer a better thermal insulation than PVC or rubber boots, keeping your feet warmer in winter!
YOU DON'T WANT TO SLIP

There are numerous hazards on a dairy farm. Not surprising when you're working with big animals and heavy machinery all day. One of the most common risks at the farm is the risk of slipping. When buying a new pair of boots, you should look at the certifications. Are the boots being tested for slip resistance by a certified institution? You can recognize the most common institutes with the following logos:
SAVE MONEY
You can save yourself a lot of money (as well as pain and hassle) when you're buying yourself a decent pair of boots. If you damage your feet and require physiotherapy, the bill can easily run into hundreds of pounds. You can buy a decent pair of boots for much less than that.
Also, cheap boots wear out much faster than decent boots, requiring you to buy a new pair more frequently. In short, don't fall prey to the false economy of cheap work boots. It is a recipe for trouble.
ABOUT BEKINA BOOTS
Safety boots from Bekina Boots are made from NEOTANE material, a foamy material with three major characteristics making them ideal for dairy farmers.
✓ Extra comfortable and healthy for your feet and back
✓ Lasts 3X longer than PVC and rubber
✓ Very lightweight
WANT MORE INFORMATION ABOUT OUR SAFETY BOOTS OR DO YOU WANT TO KNOW WHERE TO BUY THEM? Just ask us!