Composition of Our Food Industry Work Boots
7 February 2022 - 2 min. reading time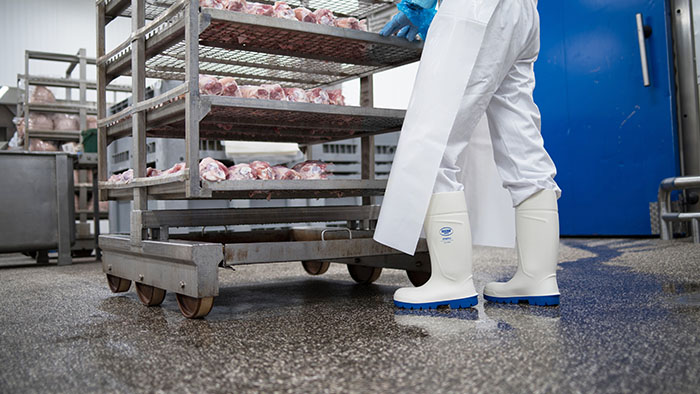 Work boots for the food industry have to meet several requirements, including slip resistance, safety, and durability. But they also have to be made from the right components, components that put your comfort and food safety first. Bekina Boots has the answer with our range of NEOTANE boots for the food industry. Are you curious about the unique composition of our work boots?
NEOTANE Boots: Durable Work Boots for the Food Industry
Bekina Boots are made of NEOTANE, a high-quality, unique polyurethane developed in our in-house test lab. This alternative to the classic rubber or PVC work boots for the food industry offers many advantages—whether you are looking for boots for a butcher's shop, a food processing plant, or a frozen food warehouse. NEOTANE boots are
lighter-weight, important for all-day comfort for food company employees;
highly thermally insulating, keeping feet extra-warm in a cold working environment such as cold storage or a freezer warehouse;
waterproof and resistant to oils and chemicals;
far more durable than rubber or PVC boots, as NEOTANE boots have been proven to last three times longer.
How can the components of our food industry work boots offer so many advantages over other materials? Polyurethane is created by mixing isocyanate and polyol, among other things. The substances chemically react to form a structure of tiny air bubbles that make our NEOTANE boots 40 % lighter than rubber or PVC boots. This makes them a lot more comfortable to wear and prevents tired legs when you're walking around in them all day. This air bubble structure also provides extra protection against extreme temperatures, which you will certainly come into contact with in the food sector.

Finally, our NEOTANE boots have a strong and impermeable outer layer. This provides protection against moisture (no wet feet!), harmful substances, and dirt. This strength also makes Bekina Boots very durable, as they don't have to be replaced as often as food industry boots made of another material like rubber or PVC.

Safety and Hygiene
Our NEOTANE work boots are available for different safety levels. Choose a pair of boots without safety toe cap (O4), with a steel toe (S4), or with a safety toe cap and midsole (S5). A steel toe provides protection on the front of the boot in case of impact of a heavy falling object, for example. A protective midsole prevents dangerous and sharp protruding objects from piercing the bottom of the boot, which can happen with rubber boots that have only a rubber sole.

In addition to boots with steel toes, Bekina Boots also offers work boots with a composite toe and midsole, such as the StepliteX ThermoProtec and the StepliteX SolidGrip (green). The composite material is made of non-metallic materials such as fiberglass and meets the required safety standards. The advantage of composite over steel is that it does not interfere with metal detectors.

But we also pay attention to hygiene and food safety, crucial points for our work boots for butchers and the food industry. In addition to white work boots, Bekina Boots are also available in green, blue, and yellow—perfect for agreeing on a color code for your company's different food processing departments so you can prevent cross-contamination and guarantee hygiene and food safety. In addition, NEOTANE work boots are especially easy to clean because the shaft and the sole fit tightly together, with no rim for dirt to get stuck in. Not an unimportant feature when you come into daily contact with animal fats, blood, oils, and other stubborn fluids in the food industry.
Comfort for Every Employee
Finally, Bekina Boots offers a suitable pair of boots for every employee. The Steplite EasyGrip, for example, has a narrow fit, making it a suitable work boot for women, while the StepliteX SolidGrip is more robust and has a wider shaft—the ideal work boots for men.

Need work boots for the food industry with 100% safe components? Whether you are looking for work boots for women, different colors for your food company, or white work boots with a steel toe, you can find them all on our website.