Rubber, PVC or polyurethane? Assessment of work wellies for the food industry
7 October 2021 - 2 min. reading time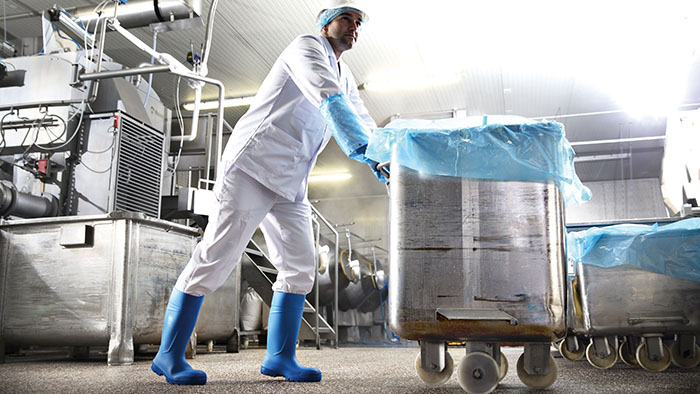 There's no need to tell you that the food industry is one of the most demanding sectors when it comes to hygiene and safety. Therefore, finding a pair of rubber wellies that, according to the reviews, meets these standards is of crucial importance to you as the head of purchasing at a food processing company. Perhaps you want to try something more innovative than traditional rubber or PVC boots? Bekina Boots produces boots made of polyurethane, an innovative compound material that guarantees the safety and comfort of your employees.

Not only have our boots been officially tested and approved by the food processing industry; the positive reviews submitted by professionals in the sector show that Bekina Boots work wellies satisfy all of your requirements. This article presents an in-depth comparison between rubber and PVC boots for the food processing industry.
Polyurethane: the most durable choice for work wellies according to the reviews
NEOTANE, the in-house developed PU or polyurethane by Bekina Boots, is a superior-quality material for work wellies. Polyurethane is made up out of millions of tiny air bubbles. As a result, the wellies are extremely light-weight and flexible, which immediately contributes to the comfort experienced by your employees. In addition, this air bubble structure in Bekina Boots' work boots provides extra thermal insulation. It goes without saying that this is important in the food industry, where work is often carried out under extreme temperature conditions, such as in freezer units.
Moreover, polyurethane lasts much longer than PVC or rubber, even if you clean the material several times a day with chemical cleaning agents. Work wellies used in a butchery that come into contact with blood or wellingtons worn in a food processing company where they get splashed with plant-based or animal fats and oils are prime examples of this. Bekina's NEOTANE wellies are therefore a sustainable and durable solution for the food industry. Considering that you, as a company, will not need to buy new wellies as often, you will save a lot of money, while contributing to a reduction in waste and a better environment.
Polyurethane compared with PVC wellies
PVC – or polyvinyl chloride – is a cheap material that is easy to process for numerous different applications. To make PVC more flexible, plasticisers or phthalates are added to it. Unfortunately, these softeners evaporate under the influence of heat or UV radiation and after a while your PVC wellies are a lot less elastic than when you first purchased them. This reduces wear comfort and durability, especially in sectors where people work in different temperatures on a daily basis, such as the food industry.
What about rubber wellingtons?
Work wellies are often popularly referred to as rubber wellingtons, but in fact rubber is not the most suitable material for work wellies used in the food industry - and other sectors. First of all, rubber is heavier than polyurethane. This causes your legs to get tired after a full working day in your rubber wellingtons, which can easily lead to physical complaints in the long term. Unlike PU, rubber is not breathable, which affects the thermal insulation and causes sweaty feet.
The best-reviewed wellies for the food industry
The result? NEOTANE polyurethane material developed by Bekina Boots is the best choice in terms of wear comfort and durability. But there's more: Bekina Boots for the food industry are available in different colours and safety levels.

In a butchery, for example, you can opt for white work wellies with a steel toe that guarantee safety and are easy to clean thanks to their sleek and smooth finish. In a food processing company with different departments, you can use colour coding to prevent cross-contamination and guarantee food safety. In the Bekina work wellies range, you will definitely find a pair that meets your food company's requirements!


Want to buy work wellies for the food industry? Discover the Bekina Boots product range on our website.