Rubber, PVC, or polyurethane? Reviews of work boots for the food processing industry
7 October 2021 - 2 min. reading time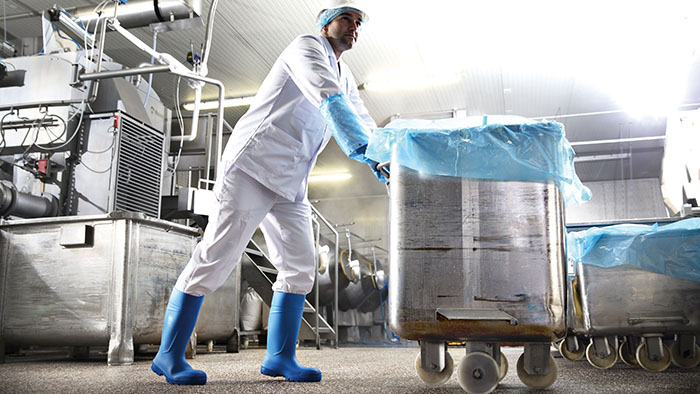 The fact that the food processing industry is one of the most demanding sectors when it comes to hygiene and safety is probably something we don't need to tell you. Finding a pair of rubber boots that meets these requirements according to the reviews is crucial for your job as a purchasing manager in a food company. Or perhaps you should look beyond the traditional rubber or PVC work boots. For example, Bekina Boots makes boots out of polyurethane, an innovative composition that guarantees your employees' safety and comfort.

Although our boots for the food processing industry have been officially tested and approved, the positive reviews from professionals in the sector also show that the Bekina Boots work boots meet all your requirements. In this article, we go into more detail about how exactly we do this compared with rubber and PVC work boots for the food processing industry.
Polyurethane: the most sustainable choice for work boots according to reviews
NEOTANE, the PU or polyurethane specially developed by Bekina Boots, is a high-quality material for work boots. Polyurethane's structure consists of millions of air bubbles. This ensures that the boots are very flexible and lightweight, which immediately contributes to your employees' wear comfort. In addition, the air bubble structure in Bekina Boots' work boots provides extra thermal insulation. No small thing in the food processing industry, where you often work in extreme temperatures, such as in deep-freezes.

Moreover, polyurethane lasts much longer than PVC or rubber, even if you clean it several times a day with a chemical detergent. Think of work boots that come into contact with blood in a butcher's shop, or with vegetable and animal oils in a food processing plant. Bekina's NEOTANE boots are therefore a sustainable solution for the food industry. As a company you don't have to buy new boots as often, so you save a lot, as well as reducing waste and doing your part for the environment.
Polyurethane compared with PVC boots
PVC, or polyvinyl chloride, is a cheap material that is easy to process for various purposes. Plasticizers or phthalates are added to make it flexible. Unfortunately, these softeners evaporate under the influence of heat or UV radiation, and after a while your PVC boots are a lot less elastic than when you first bought them. This reduces wear comfort and durability, especially in sectors where people work in different temperatures on a daily basis, such as the food processing industry.
What about rubber boots?
Work boots are often popularly referred to as rubber boots, but in fact rubber is not the most suitable material for work boots used in the food industry - and other sectors. Firstly, rubber is heavier than polyurethane. This causes your legs to get tired after a full working day in your rubber boots and you will experience physical complaints over the long term. Unlike PU, rubber is not breathable, which affects the thermal insulation and causes sweaty feet.
The best-reviewed boots for the food industry
What's the answer? NEOTANE polyurethane from Bekina Boots is the best choice in terms of wear comfort and durability. But there's more: Bekina's work boots for the food processing industry are available in different colors and safety levels.

In a butchery, for example, you can opt for white work boots with steel toes that ensure safety and are easy to clean thanks to their sleek finish. In a food processing company with different departments, you can work with color codes to prevent contamination or cross-contamination and guarantee food safety. In the Bekina work boots range, you will definitely find a pair that meets your food company's requirements!

Want to buy work boots for the food processing industry? Explore the Bekina Boots range on our website.