White Butcher's Boots With and Without Steel Toe
5 September 2022 - 1 min. reading time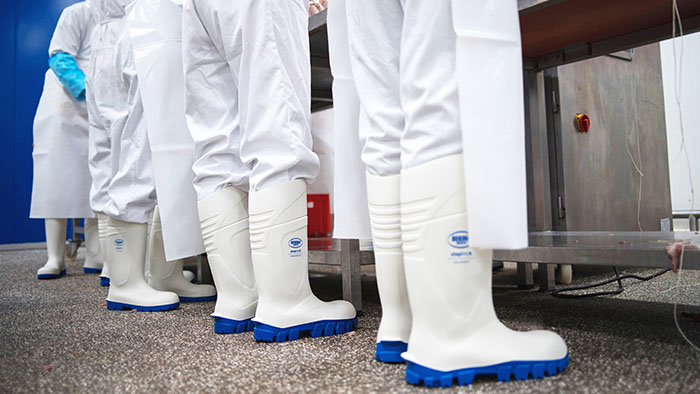 In butcheries and meat processing plants, hygiene is especially important. Butcher's boots, however, come into frequent contact with vegetable and animal oils, fats, various chemical cleaning products, and blood. So it is important to know that your butcher's boots are really clean after cleaning so that you don't carry dirt from one work area or production unit to another.

Butcher's boots for men and women are therefore usually white so that you can spot dirt easily. The sole profile of our white butcher's boots is designed to make them very easy to clean and, because the shaft and sole merge seamlessly, there are no edges where dirt can creep in. So our butcher's boots are extra-hygienic!

In addition to hygiene, safety is key in a butchery or meat processing plant. Our NEOTANE butcher's boots are therefore thoroughly tested in our lab and in the field. They are SRC-approved and comply with the strictest standards and norms for work boots and slip resistance.

Bekina Boots white butcher's boots with and without a steel toe are made of NEOTANE and are not rubber boots. NEOTANE is a high-quality polyurethane that is light and very strong. Because of this, NEOTANE boots have a longer service life than rubber or PVC boots. So you don't have to buy as many butcher's boots each year and can save money without compromising on quality and comfort. Our high-quality boots also offer extra comfort thanks to their fit, flexible material, and high thermal insulation value. And the optimum air circulation ensures you don't get sweaty feet. Once you've worn our white NEOTANE butcher's boots, you won't want to go back to rubber or PVC boots. The difference is remarkable!

The most popular white butcher's boot for women is our feather-light Steplite EasyGrip. The boot is available without safety toe cap (O4) or with a steel toe (S4). The comfortable insulating and moisture-absorbing insoles will always keep your feet warm and dry down to as low as -4 °F.

For men, a pair of white StepliteX SolidGrip butcher's boots with a wider shaft and steel toe cap (S4) or composite toe cap and protective sole (green) is a good choice. Comfortably warm feet guaranteed down to as low as -22 °F !

Our StepliteX ThermoProtec butcher's boots with a composite toe cap and midsole (S5) are perfect for men and women who work in temperatures all the way down to -40 °F.