Bekina Boots Work Boots for the Food Processing Industry Tested
4 April 2022 - 3 min. reading time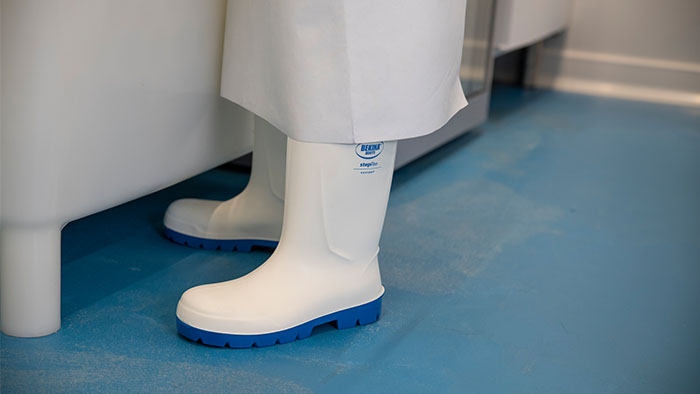 Looking for work boots for the food processing industry? Whether you are looking for boots for a butcher's shop or a food processing plant, you will want to find work boots that are economical as well as safe and comfortable.

Bekina Boots can find the right balance for you. Our safety boots for the food processing industry are constantly tested, both in-house and by people in the field. This constant testing helps us guarantee your safety and comfort and the durability and hygiene of your boots, but it also keeps us innovating beyond other providers. If you are curious to see how we test our boots, read on!
In-House Test Lab and Product Development
First, our boots are subjected to rigorous testing in our own laboratory. There we look at how each type of boot scores in terms of safety, quality, and comfort. The boots are tested for:
quality
antistatic properties
protection, using an impact test
susceptibility to wear of the lining, footbeds, and insoles, using a Martindale test
strength, using a compression test
tensile and tear strength
S5 protection of the sole, using a perforation test
wear of the sole, using an abrasion test
flexibility of the sole (flexing resistance), using a flex test
Our lab is regularly audited by accredited test laboratories recognized worldwide. Among other things, they evaluate our internal testing methods and the calibration of our equipment. Thus, we can guarantee that our performance and safety tests are performed according to applicable standards and properly carried out.
Bekina Boots are boots for adults made of NEOTANE (high-quality polyurethane) without any harmful substances. We carry out tests in our lab to see how this composition compares with other brands and materials. For example, we test whether our boots can withstand more impact than PVC and rubber boots for the food processing industry, and whether they are more comfortable and wear less than rubber boots. These tests help us keep innovating to guarantee you the best work boots in terms of safety, durability, and comfort. For your information, these tests have already shown that our NEOTANE boots last three times longer than rubber and PVC boots!
Test Panel on the Shop Floor
In addition to our own in-house test lab, Bekina Boots also works with food processing industry professionals. When we launch a new work boot for this sector, we have it tested by a large number of employees in different food processing plants and factories. They wear the boots on the shop floor for a certain period of time so that we can gauge their satisfaction in various areas. For example, are the boots comfortable enough to wear for a whole working day? Do the different fits meet each employee's requirements? Are the boots easy to maintain? Are there any areas for improvement that would increase ease of use?

Remarkably, our test panel is given not only Bekina Boots work boots to evaluate, but a range of boots from other brands and in other materials. As there are no logos on the boots, the wearer doesn't know whether he or she is wearing Bekina Boots or another pair of boots, and his or her report is therefore completely objective. Our test panel will pass on their findings to us so that we can incorporate them into our further product development. This front-row feedback is crucial to us: our mission is only accomplished when the end user approves the boots. So you can be sure that Bekina Boots work boots for the food processing industry meet your sector's highest requirements.

Do you work in the food processing industry and want to be part of our test panel to test our boots in the field? Please contact us with your proposal and we will get back to you quickly!
Internationally Recognized and Approved
Finally, Bekina Boots works with various internationally accredited test institutes. Thanks to their recognition, we can guarantee that our boots meet global and local standards such as:

Our safety boots for the food processing industry are also

SRC-certified

in terms of

slip resistance

. This is important because about a quarter of all work accidents are caused by footwear with poor grip! So you can be sure that our work boots for the food processing industry offer extra safety.

Our offerings also include several

official safety standards

. You can choose the

Steplite EasyGrip

without safety toe cap (O4) or with steel toe (S4). Our StepliteX ThermoProtec and StepliteX SolidGrip (green) are even available with composite safety toe cap and sole (S5). In addition, based on your food processing industry niche, you can choose boots that

meet thermal insulation requirements

. Our Thermolite IceShield goes to the extreme, protecting you from cold feet in temperatures as low as -58 °F (-50 °C).

Choose Bekina Boots
Our work boots for the food processing industry are tested and approved. Find them all in our website.